Simplife has moved from Wijnegem to Stabroek and wants to celebrate this!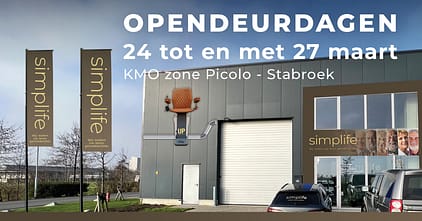 From Friday 25 March to Sunday 27 March Simplife will be holding open days. Why actually?
Everyone is welcome this weekend!
"We want to be there for everyone," says Jeroen Hazenberg, who run Simplife together with his life partner Deborah Almeida and eldest son Dylan Hazenberg.
Discover and experience the UP stairlift. Many mobility scooters or all kinds of aids that make your life easier.
More info on: https://www.facebook.com/SimplifeBV or https://www.linkedin.com/company/simplifebv/
Do you still have questions or would you like to contact us? https://www.simplife.be/contacteer-ons/