In beweging blijven vinden wij 'Simplife' super belangrijk. Er zijn tal van hulpmiddelen om korte en lange afstanden te overbruggen. Zo heeft Simplife dealer overeenkomsten met verschillende bedrijven die uw leven gemakkelijker maken. Ons principe is 'Kijken mag, beleven ook!' Kom al onze producten testen en ontdekken in onze showroom.
---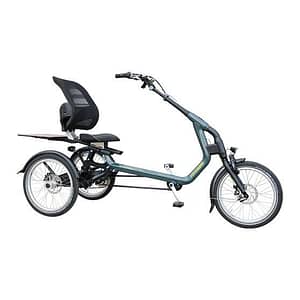 Officieel service dealer firma "Van Raam"
Simplife heeft sinds september een officiële samenwerking met de firma Van Raam "Let's all cycle".
Een Van Raam Service Partner (dealer) heeft minimaal één proefmodel, heeft ervaring met de Van Raam producten en heeft ook product kennis. Een Van Raam Service Partner kan Van Raam fietsen bestellen en onderhouden. Een werkplaats en vaardigheden om service uit te voeren zijn ook beschikbaar. Hier kan je een Van Raam fiets bestellen/kopen.
---
Dealer van 'Tri-bike'
Ook met Tri-bike heeft Simplife een samenwerking aangegaan. Tri-bike is een gevestigde waarde, in België, als het aankomt voor fietsen met de nodige aanpassingen die minder mobiele mensen toch in beweging te houden. Voor vele van de Tri-bike fietsen zijn er tussenkomsten mogelijk. Simplife kan u hierbij zeker helpen. Heeft u vragen of twijfelt u over de juiste keuze van fiets, laat u begeleiden door Simplife, één van onze medewerkers helpt u graag!
---
Eigen werkplaats voor herstellingen en onderhoud
Simplife heeft haar eigen werkplaats om fietsherstellingen uit te voeren. Vergeet ook niet dat, net zoals u wagen, de fiets een periodiek onderhoud nodig heeft.
Maak een afspraak op het nummer +32 (0)3 349 76 70 of mail ons op welkom@simplife.be.
Online kan u ons ook contacteren, maak snel een afspraak op https://www.simplife.be/contacteer-ons/
Werknemer worden?
Simplife is een groeiend bedrijf en is steeds opzoek naar gemotiveerde medewerkers. Wil je deel uitmaken van een familiaal bedrijf met doorgroeimogelijkheden. Stuur snel je CV en motivatiebrief door naar joinourteam@simplife.be